FahSpy description
The utility is intended for monitoring Folding@Home client work (locally or by network).
It uses little system resources, can handle unlimited number of client installations and is stable against network problems.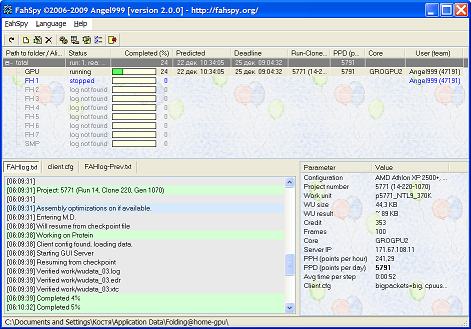 FahSpy key features:
information on current work unit (WU): project number, run, clone, gen
status of client (working, stopped, has unsent completed units, cannot reach client folder)
percent of current WU completed
preferrable term of completion and deadline for current WU
core name
amount of points for current WU
prediction for the time of completion of current WU
estimated points per hour and per day
bonus factor is taken into account (-bigadv key)
operating with services on local and remote PC. Note! "F@H service name" should be specified in folder settings. (sc.exe utility from Windows XP Professional and higher required. However, you may copy it to your Windows 2000/XP Home folder)
information on possible client setup and computing errors

color log viewer and client configuration editor. Also FAHlog-Prev.txt viewer available
CPU usage indicator
"Predicted" column highlighting if target date/time limit is after preferred/deadline date
... and many other useful things.
Download
current version:
FahSpy 2.0.1
of 13 jan 2010 (607 KB) (English, Russian, Ukrainian)
Contacts:
Folding@Home official forum thread
about utility (English)
TSC! Russia forum thread
about utility (Russian!)
Please send your remarks and suggestions to
info@fahspy.org